Provence food best thing I ever tasted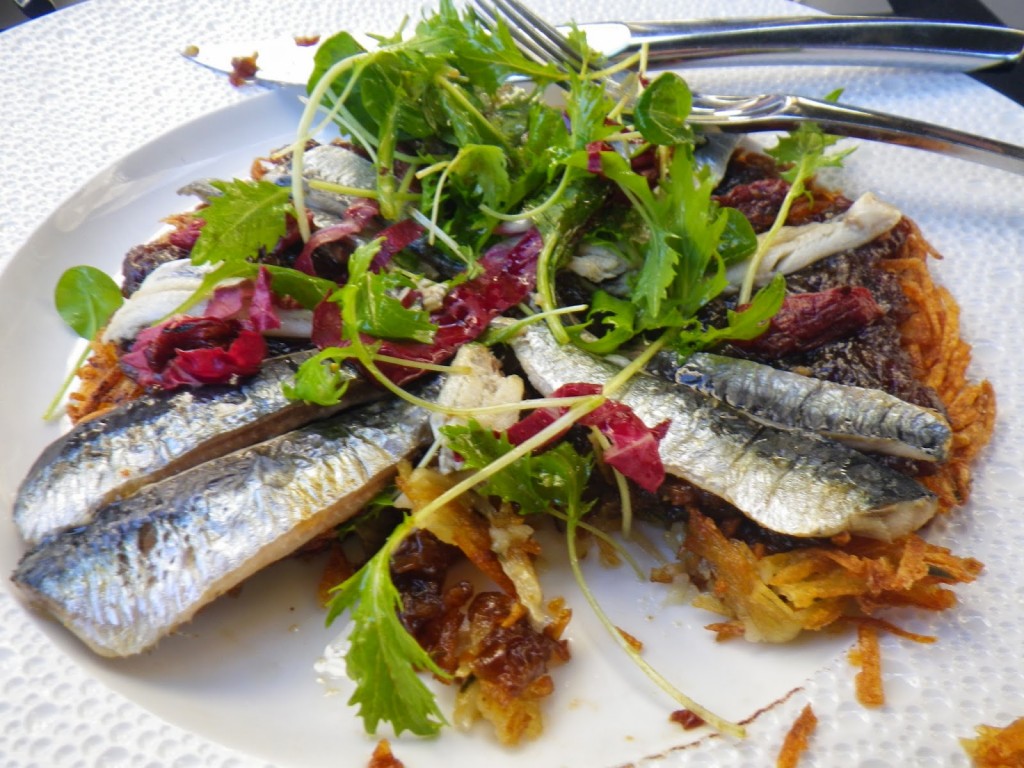 A potato pissaladière with sardines and anchovies was one of the best things I tasted in Marseille.
To battle this long cold winter, my daydreams turn to Provence, the scenic crossroads of Southern France, the Italian Alps and the Mediterranean. My visit last September was at harvest time and we ate some of the most delicious foods I've ever experienced.
One was a Potato Pissaladière, shown above, a creation by Chef Lionel Levy when my group enjoyed a lovely luncheon on the patio of the brand new Intercontinental Hotel in Marseille. A boat visit to the Calanques, France's newest national park, followed.
Imagine my surprise to learn that a just published book "Provence Food and Wine: The Art of Living" ($19.95 Agate Surrey) has Levy's Potato Pissaladière along with delightful stories and photos that take me back to that enchanted visit.
I'm going to make it as soon as I can find fresh sardines.  But I may just try it  with canned sardines, since I've had them on my grocery list all winter so I could rekindle in my kitchen my food memories of the south of France.
Here's the recipe:
POTATO PISSALADIERE WITH SARDINES AND ANCHOVIES
For the onion confit:
3 tablespoons extra virgin olive oil
2 medium red onions, quartered and thinly sliced
1/4 cup dry red wine
1 whole star anise
1 tablespoon honey
1 tablespoon red wine vinegar
3 whole cardamom seeds
1/2 teaspoon salt
1/4 teaspoon crushed fennel seeds
Freshly ground black pepper to taste
For the potato gallette:
2 tablespoons extra virgin olive oil
2 tablespoons butter
2 medium russet potatoes, peeled and grated
Salt and freshly ground black pepper to taste
For the Pissaladière:
2 small fresh sardine fillets, halved
4 tablespoons extra virgin olive oil, divided
Juice of 1/4 lemon
2 teaspoons chopped fresh parsley
Pinch each of un-smoked hot paprika, cayenne, pimento or Aleppo pepper
Salt and freshly ground black pepper to taste
4 anchovy filets in oil
2 dried tomatoes, quartered lengthwise
1/4 cup black olives, pitted
1 fresh artichoke, quartered
1 cup salad greens
1/4 cup edible flowers, for garnish
Prepare the confit: I a medium saute pan, warm oil over medium high heat. Add onion and cook 3 to 5 minutes until liquid is released. Add wine and continue cooking 2 minutes until alcohol has evaporated. Reduce heat to very low. Add star anise, honey ,vinegar, spices, salt and a grind of black pepper. Stir well. Cook 2 hours adding a little water if needed to prevent onions from burning. Remove from heat. Remove and discard star anise and cardamom seeds. Adjust seasoning to taste. Set aside.
For potato galette:
In medium nonstick saute pan warm oil and butter of medium high heat. Add potatoes, sprinkle with salt and black pepper and cook 2 to 3 minutes. Reduce heat to medium and continue cooking until galette starts to brown and can easily be pulled away from side of pan. With large spatula, flip the galette and cook 7 to 8 minutes until other side is golden brown. Remove from heat and set aside.
Prepare the pissaladière:
Preheat broiler  to medium and set oven rack to center position. place sardine fillets in an ovenproof dish and drizzle with two tablespoons of oil and lemon juice. Sprinkle with the parsley and ground pepper mixture and season to taste with salt and pepper. Cook under broiler 2 to 3 minutes. Remove from oven and set aside. Place potato galette on serving platter. Spread onion confit evenly over it and top with anchovy fillets and sardine halves, alternating them in fan-like manner radiating out from center. Arrange tomatoes and olives on top and add artichoke quarters. Place salad greens in middle and drizzle with oil and season with salt and pepper. Serve warm or at room temperature.