AirFrance plane with 538 passengers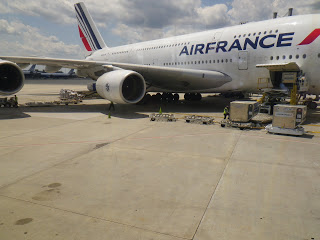 The size of the A380 is apparent by looking for the baggage handler slightly to the right of center and seeing how his size compares to the fuselage. Bags are in containers aboard this AirFrance flight, possibly organized by final destination, but I haven't confirmed that. But total weight of carry-on bags must be 12 kg. or less so even though my bag was regulation carry-on  size, my electronics put me over and I had to check it.
I first realized it was a mighty big plane when I watched the crew file aboard as I waited for my flight to Paris at Dulles Airport in Washington DC.
I counted 22 uniformed flight attendants boarding AirFrance 039.
If it's not the biggest plane in the air is the biggest one Ive flown. It had two levels and carried 538 passengers. Its an Airbus 380 and it's 72 meters (78 yards) long and with a 79 meter (260 feet) wingspan.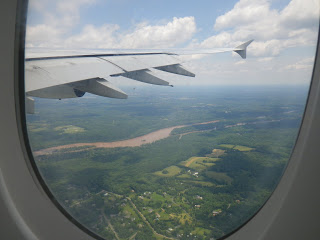 From my coach seat near the rear on the starboard side of the A380 the wing seemed to go on forever. This was shot as the plane was preparing to land at Dulles.
My metric conversion gene is not a strong one, but as I sat in my window seat and looked out on the wing it seemed to go on forever. We had 538 passengers on board, according to my flight attendant, but I understand that the aircraft can be configured to carry more than 800 passengers – to me an almost impossible number to imagine traveling at jet speed across the vast Atlantic.
After a flight of about 7-some hours, I arrived in Paris at 6 a.m. local time (midnight at home) and tried to keep my wits about me to find my connecting flight to Montpellier. It was a very long walk to my gate in Terminal 2E at Charles de Gaulle International and I arrived with only a few minutes to spare before boarding a much smaller aircraft for the hour-plus flight south. At that point I was wishing I'd taken the train since the highspeed TGV boards from the airport's lower level and the ride takes about 3 hours…plenty of time for a nap.
Montpellier is near the Mediterranean in the south of France and I am joining a group of wine and travel writers who will be shown around the unique terroir that helps to produce some very nice wines. Our trip through Languedoc begins tomorrow so stand by and if wi-fi and time is available I'll be telling you about it.
Resources: airfrance.us and franceguide.com