Visit a New Zealand mission little changed since 1830s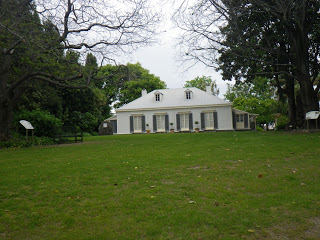 The Elms, built in the 1830s as a mission house on the Bay of Plenty, is the oldest European building in this part of New Zealand.
Early New Zealand missionaries came to end the Maori people's occasional cannibalism, bring them to Christianity, and teach them English.
An Anglican mission house, built in the 1830s, housed the earliest missionaries and their descendants who occupied in until 1992. Today it's a museum and a must-see during a visit to Tauranga.
I'll focus on that area, in the northern part of New Zealand's North Island, in my Kiwi Kronicles series which begins in the News-Herald on Feb. 12.
The Elms, as the mission house was named,  is the oldest European heritage site  on the Bay of Plenty. It  was built as an Anglican mission house in the 1830s. Although the city of Tauranga has grown up around it, the house was lived in from 1847 to 1992 and everything — from its furnishings and outbuildings to its gardens reflects the past.
Because early missionaries had to be self sufficient, its library contains original books covering topics that range from the expected theology, to medicine, music and gardening.
The wood framed house is small, but it was heartily welcomed by Alfred Brown, his wife Charlotte and their two young children when it was it built to replace a home made of rushes that first housed the missionary family. Missing the oaks of his English homeland led Brown to plant an acorn brought all the way from England. Today it is a giant tree among the Norfolk pines that are more customary vegetation in New Zealand. To build the stately Georgian style home, Maori workman floated native kaury logs down a nearby river and built the house to face the sun in the north. The walls of the house were filled with rushes to keep it cool in the summer and warm in the winter.
Brown traveled on foot around the area teaching English to the Maoris and bringing the word of God to them.
Their son died as a child and Charlotte followed a few years later, meeting her end in Auckland where she had traveled to seek medical help. Brown remarried in 1860 , the year that land wars between the settlers and the Maori ended his mission work.
Some of the 17 acres which originally surrounded the home were sold in 1913 to pay for its maintenance  when lean-tos were built on each side of the house so a kitchen could be installed in one and bathroom plumbing in another.
Those who followed the Browns cared lovingly for the home and added to the gardens, which today are a wonderful combination of old England and New Zealand plantings.
A chapel, built to replicate the original church, is today a popular venue for local weddings.
It's a fascinating slice of early life in New Zealand.