Loire chateaux gardens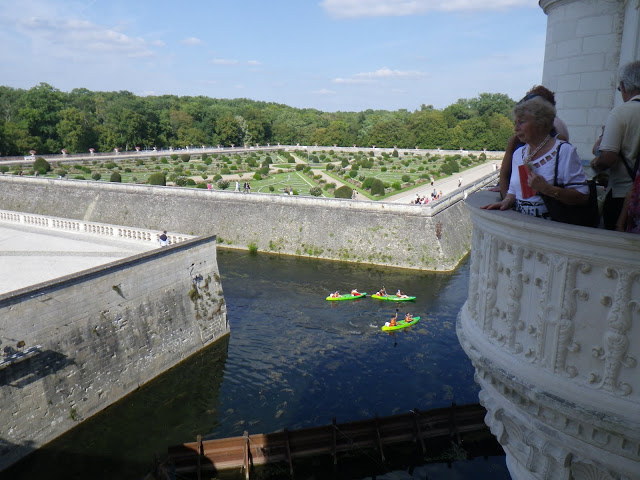 Château de Chenonceau

visitors look over some of the gardens originated in the 16th century by Diane de Poitiers and Catherine de Medici as kayakers on the river over which the chateau  was built explore by water.
Chateaux where rivals Diane de Poitiers and Catherine de Medici lived are just 12 miles apart in France's verdant Loire Valley. Their lifetime rivalry over King Henry II of France played out at both of their homes and its many stories continue to fascinate today 's visitors to their  beautiful chateaux. Diane, 20 years the king's senior, was his mistress while Catherine was his wife, marrying the young king when he was 15 and she was 14. Both Chateaux were owned by the King and he moved between them.
But many who visit care little for the Renaissance intrigues of the mid-1500s, coming instead to visit the gardens.
The hundreds of acres surrounding Chaumont are the scene each year for an international garden competition while the gardens of Chenonceau perfectly set the scene between sky and water. It's unlikely that either Diane or Catherine ever actually got down on their knees to work in the soil, but both women were sources of ideas for armies of gardeners and landscape architects among their staff members.
Since 1992 the landscaped park around Chaumont has hosted the International Garden Festival from April to October. Thirty new gardens are created here by landscape artists each spring around a theme. When I was there in September I viewed several of the Gardens of the Future, which framed the theme of biodiversity around new blooms, new materials and innovative ideas and approaches, some of which are seen here.
I wasn't there at night, but if you go in summer you should be. From 10 p.m. to midnight the chateau itself is illuminated by 2,500 candles while part of the gardens are lit by electroluminescent diodes, their colors revealing strange and mysterious shapes and shadows of the plants.
Meanwhile, at Chenonceau the vast, 1,700-acre gardens of both Catherine and Diane, which flank each side of the chateau, also are illuminated on summer evenings. Visitors can stroll among them to musical accompaniment from Arcangelo Corelli, Italian master of classicism.
Those who take an i-Pod tour of the chateau's rooms will certainly be smitten by the many fresh flowers on display. They change with the season and are designed with blooms grown in the gardens. Those who wish can visit the floral workshop in the courtyard of the 16th Century farm on the premises. This time of year, majestic fir trees brighten the tour, which is warmed by blazing fires in the chateau's many fireplaces.
That chateau was built over the Cher River, a Loire tributary, and boat tours can also be arranged by those wishing to tour by boat. learn more at domaine-chaumont.fr and chenonceau.com
Read my story Meet Renaissance women rivals who lived in Loire chateaux 12 miles apart in The News-Hearald